Prof. Dr. Francesca BRUNETTI
H-Index: 17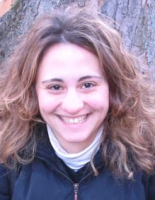 University of Rome Tor Vergata, Italy, EU
Position: Senior researcher in the Optoelectronics Group, University of Rome Tor Vergata, Italy
Specialization: Electronic and Optoelectronic Devices; Nanoimprint Lithography.

At the NANOCON´19 conference F. Brunetti will present an invited lecture at the session A.

Personal Background and Education:
Prof. Francesca Brunetti received her Degree in Engineering "cum laude" from The University of Rome (Italy) Tor Vergata in 2001. In 2004 Dr. Francesca Brunetti obtained her Ph.D. in Microelectronics and Telecommunications at the Electronic Engineering Department, University of Rome - Tor Vergata, Italy discussing a Ph.D. thesis with the title 'Design, realization and characterization of organic transistors'. In 2005 she got a Marie Curie Intra-European Fellowships on the "Realization and characterization of flexible arrays of photodetectors" supervised by Prof P. Lugli Technical University of Munich. Since 2006 she is a researcher in the Optoelectronics Group of Prof. Aldo Di Carlo in the Department of Engineering of Tor Vergata.

Research Interests and main results:
Prof. Brunetti has developed a broad and multidisciplinary experience in analysis, design and manufacture of electronic and optoelectronic devices through the use of nanomaterials and organic semiconductors. From 2004 she has been working with devices using carbon nanotubes (CNTs) for applications in electronics and sensors. In this context, using CNTs she has designed and realized cold cathodes for electron guns operating at THz frequencies and nano-vacuum triodes operating at GHz. She studied organic materials such as PEDOT: PSS and polyaniline individually and in combination with CNTs deposited on flexible substrates in order to assess the conduction characteristics and their possibility to be used as piezoresistive sensors.
She also carried out an optimization study of nanofabrication processes based on the use of nanoimprint lithography and on techniques for the patterning and the electrochemical growth the realization of metallic nanowires.
She has studied and realized transistors hybrid / organic and fully organic on flexible substrates that have been used most recently for the realization of tactile sensors. This activity was supported by the project MIUR - PRIN2007 "Fabrication and modelling of an array of tactile sensors". Within the reality of CHOSE (the Center for Hybrid and Organic Solar Energy of Region Lazio, www.chose.it), Dr. Brunetti is doing a research on the use of nano-structured organic materials for the construction of photovoltaic devices and organic bulk-heterojunction type. In particular, attention is focused on organic photodetectors for applications in low cost optical communications and third-generation organic solar cells on flexible substrates.
More information at: http://www.chose.uniroma2.it/staff/96-francesca-brunetti.html

Publication activity:
108 research papers and more than 1400 citations, H-index: 17