Dr. Roel SCHINS
H-Index: 49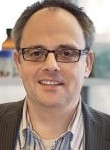 IUF-Leibniz Research Institute for Environmental Medicine, Dusseldorf, Germany, EU
Position: Head of research group at the IUF-Leibniz Research Institute for Environmental Medicine, Dusseldorf, Germany
Specialization: Particle toxicology, nanotoxicology

At the NANOCON´19 conference Roel Schins will present an invited lecture at the session D – Monitoring and Toxicity of Nanomaterials.

Personal Background and Education:
Roel Schins studied Biological Health Sciences and obtained his PhD at Maastricht University, The Netherlands. During this time, he had research stays at the INSERM/University Paris XII and the Netherlands Organisation for Applied Scientific Research (TNO) and completed advanced postgraduate training in toxicology. Subsequently, he went to Edinburgh Napier University in Scotland on a postdoctoral Research Fellowship, before moving to Düsseldorf, Germany where he currently leads his research group at the IUF-Leibniz Research Institute for Environmental Medicine.
Roel Schins is deputy editor of the open access journal Particle and Fibre Toxicology, and has been serving as expert on particle toxicology and nanosafety to various organisations and bodies. This includes the German Senate Commission on the Investigation of Health Hazards of Chemical Compounds in the Work Area (DFG-MAK), the German Senate Commission on Food Safety (DFG-SKLM), the German Federal Ministry for the Environment (BMU), the EU (DG-SANTE) and IARC/WHO.

Research Interests and main results:
The main research in the group of Roel Schins is directed at understanding how particles (i.e. ambient particulate matter, mineral dusts and engineered nanomaterials) can cause diseases in humans. The group's previous research has substantially contributed to the identification of sustained inflammation as a key driver of the pathogenesis of particle-induced lung diseases including fibrosis and lung cancer. This mode of action is also in the centre of discussion regarding the potential genotoxicity and carcinogenicity of specific types of engineered nanomaterials.
His current projects focus on the investigation of: (I) the mechanisms and kinetics of particle-induced inflammation, DNA damage and tissue remodelling, (II) the neurotoxic and neurodegenerative effects of engineered and unintentionally-generated nanoparticles, and (III) the development and validation of alternative in vitro models for toxicological risk assessment of inhaled and ingested particles.

Publication activity:
145 peer reviewed papers (8500 citations), H-index: 49