Dr. Jan MACÁK
H-Index: 57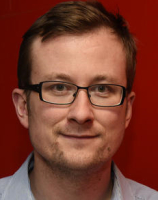 University of Pardubice, Czech Republic, EU
Position: Senior researcher at the Center of Materials and Nanotechnologies (CEMNAT) at the Faculty of Chemical Technology, University of Pardubice, research group leader at the Central European Institute of Technology (CEITEC), Brno, Czech Republic.
Specialization: Synthesis and applications of new low-dimensional structures.

At the NANOCON´19 conference Jan Macák will present an invited lecture "Anodic TiO2 nanotubes for photovoltaic applications" at the session B.

Personal Background and Education:
Jan Macák (*1979) was born in Pardubice. He received MEng in 2003 from the Institute of Chemical Technology in Prague. In 2008 he received a Ph.D. degree in Materials Science at FAU Erlangen in Germany. His Ph.D. thesis was devoted to the synthesis of nanotubular titanium dioxide layers by anodization of titanium. He worked for several years in the nanotechnology industry in the following years. In 2012 he joined the University of Pardubice as a researcher, later on he became a senior researcher and group leader. From 2018 he has been also a research group leader at CEITEC BUT in Brno.

Research Interests and main results:
In 2014 he received financial support from the European Research Council (ERC) for the project in the field of physical and material sciences. This multidisciplinary project brings a new concept of solar cells, which combines titanium dioxide nanotubes with suitable inorganic and organic chromophores, and this combination should lead to an efficient conversion of solar energy into electrical energy.
Jan Macák works also at the Central European Institute of Technology (CEITEC) in Brno as the leader of the research group Advanced Low-Dimensional Nanomaterials. Its research is focused on the synthesis of new low-dimensional structures such as nanotubes, nanolayers, nanofibers, in various ways. Research of the group also includes the necessary investigation of the relationship between the structure and the properties of these materials. The most promising materials are explored in various areas such as photovoltaics, catalysis, batteries, etc.

Publication activity and Awards:
He has authored and co-authored 130 works that have been cited for almost 13.000 times. Hirsch index: 57. He is in the TOP 10 of the most cited Czech scientists.
For his outstanding scientific achievements, and in recognition of his scientific research work, Jan Macák won the prestigious Neuron Prize for Scientists for 40 years awarded by the Neuron Foundation in 2015.